Work of art on North Circular Road
Related Links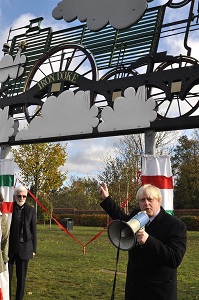 Participate
Comment on this story on the forum
At an informal ceremony last Thursday (14.11), London Mayor, Boris Johnson, unveiled a new Ealing landmark art work on the North Circular Road commemorating the completion of the new railway bridges.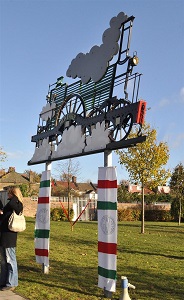 The nearly 4 metre long Iron Duke sculpture was the winning entry in an open competition organised by Ealing Arts + Leisure and was mainly funded by Transport for London (TfL) with contributions from Ealing Common Ward Forum and local groups.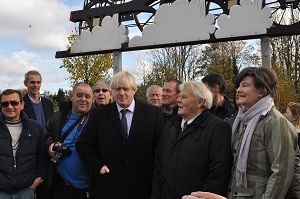 Ealing Civic Society and local residents' associations had been involved in the design of the bridges and in particular the parapet of the bridge nearest the art deco Grade II listed Ealing Village whose residents bore the brunt of noise and dust during the construction of the new bridges.
The sculpture was designed by Michael Sinclair and constructed by artist blacksmith Julian Raffe from Surrey.
The Iron Duke was one of the first broad gauge locomotives to run on Brunel's Great Western Railway mainline from London to the West Country which passes underneath the Hanger Lane bridges carrying the North Circular Road (A406).
19th November 2013