Third time in Ealing - huge family event
Related Links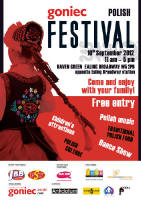 Participate
Comment on this story on the forum
After last year's success, the weekly magazine Goniec Polski and portal Goniec.com are organizing a third edition of Polish Festival in Ealing. This family event has already permanently inscribed in the cultural calendar of the borough, home to the largest Polish community in London.
The main idea of the festival is to promote Poland through introduction of Polish culture and businesses as well as to integrate Polish community of west London with native inhabitants of Great Britain. The event, organized by the oldest weekly magazine for the Polish community in Great Britain, attracts thousands of people every year. It also gives an opportunity for the Poles to present what they are proud of: family tradition, culture, Polish business or tasty cuisine.
As in previous year the festival will take place in the central and well-known spot in Ealing –Heaven Green Square.
It is meant to be a festival showing a good side of the borough, where Poles, Brits and other local communities can live together.
The organizers guarantee a lot of fun. There are many shows and performances in this year's programme, inter alia: Antidotum Group, Siamese Soul and Scena Poetycka POSK (Polish Social and Culture assosiation's Poetic Scene). The dance school Masterdance & Polishart will present very interesting art programme. Polish food, competitions, games for kids and many other attractions are waiting to be discovered.
The Polish Festival will take place on:
Sunday, the 16th of September, 11am until 5pm.
Free entry thanks to the following companies:
Sami Swoi – Money transfers – Strategic Partner
Ealing Broadway Business Improvement District – Partner
Shop Local - Partner
Event's main sponsor - PSW Company - the leading supplier of JBB meat products in the UK
• 40 exhibition stalls
• Free activities for children
• Polish music
• Polish traditional food
• and a lot of fun and surprises

We look forward to seeing you!
Artistic programme of the third edition of the Goniec Polish Festival
11.00-12.00 Festival Opening
12.00-12.25 Performance of the dance group, Master Dance
13.00-13.50 Kids Theatre Show "Wesoly zwierzyniec" performed by Poetic Scene of POSK
14.30-15.15 Siamese Souls concert
15.50-16.40 Antidotum concert
16.40-17.00 Festival Ending

11th September 2012