Free taster sessions for women at Ealing Golf Club
Related Links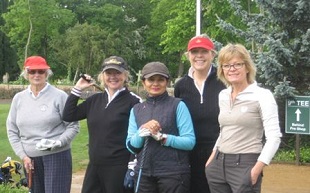 Participate
Comment on this story on the forum
A new initiative to give all women an opportunity to uncover the hidden golfer inside is launching at Ealing Golf Club in June.
Recognising how tough it is to start up golf when you've previously only dabbled at holiday golf, or lapsed from previous club golf due to pressure of time - careers, work or bringing up children - Rediscover Golf makes golf fun and flexible too.
''By getting women with similar experiences together we can help them progress quickly and build confidence with refresher sessions actually on the course.
At Ealing we can play 8, 11 or 18 holes, and have a bit of fun whilst on the pathway back to golf" says Fiona Read, of the Rediscover Golf team
FREE Taster sessions are being held at the club on Wed 4 June (6pm); Thurs 5 June (10am); and Sat 5 July (10am) offering a chance to meet the team and find out more.
Sign up for a confidence building'on course' Refresher with PGA pro, Neil Jordan; book a FREE trial round of golf with a lady member or join the beginners Academy.
Readers Offer: 10% off the Membership Fee onto bar swipe card with code RDGPCA. (Lifestyle Membership from £895)
For more information or to book a place at the no obligation Taster Session call Lorraine in Admin on 020 8997 0937
The project is supported by England Golf.
29th May 2014