Students enjoy a sports lesson with a difference
Pupils from The Ellen Wilkinson School recently enjoyed a golfing taster day which changed a few perceptions about the sport.
The 3-hour session at Ealing Golf Club was funded by Sportivate and saw 18 girls from year 10 along with PE teachers Rebecca Gibson and Emma Woods enjoying the green.
The session, led by qualified PGA Teaching Professional Luke Willett, provided an introduction to the game and the opportunity to learn the basic skills on the practice ground, followed by a fun competition to showcase their skills. It was completed with an interesting talk from Ealing member and Middlesex County Girls coordinator Anne Koychev about the different ways that girls can get into golf.

Luke plans to continue the lessons with sessions on the school playing field over the next 5 weeks, followed with another visit to the golf course.
Maryam Helmey, one of the participants, is certainly looking forward to it: "I thought golf was for old people but now I see it as a fun sport to play. We had lots of fun learning new skills and it's definitely a sport I would like to continue playing. It was great to have the opportunity to experience golf and see it in a different light"

Luke is running similar courses with several other local schools and, together with Director of Golf Ricky Willison, runs Ealing Golf Club's regular Academies and holiday camps for both boys and girls, as well as its popular Ladies Academy.
Ealing's work in getting people into golf were recently recognised by the award of England Golf's top 'High Achiever'GolfMark accreditation for junior and beginner friendly clubs.
For further information please contact Peter Rayworth peter.r13@btinternet.com 07711 050 499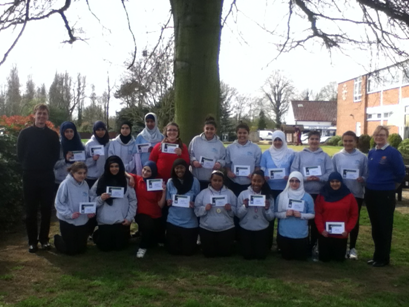 23rd April 2013