And a surprise - new one to be revealed soon
Related Links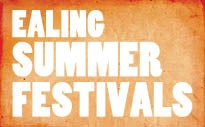 Participate
Comment on this story on the forum
It may be cold and wet outside at the moment but here's something to cheer you up.
Event dates have been announced for the 2013 Ealing Summer Festivals.
Music and comedy will bring thousands flocking to the borough's parks again, and a new event - not yet revealed - will be added to the festival line-up in coming weeks.
Community favourites Greenford and Acton carnivals will open the Ealing Summer Festivals again this year, offering live music performances, market stalls and fun fair rides.
Celebrating its 20th year, Ealing Comedy Festival will treat audiences to top name comedians over five nights, while local and international acts will light up Walpole Park during the five day Ealing Jazz Festival. The London Mela will close the festivities in spectacular south-Asian style at Gunnersbury Park.
This year's festival will also see a number of changes. Ealing Blues Festival is expanding from a one to two-day jam-packed music extravaganza, while Ealing Opera in the Park and Global Festival will not be part of the festival programme.
Dates for Ealing Summer Festivals 2013:
Greenford Carnival - Saturday 29 June
Acton Carnival - Saturday 6 July
Ealing Comedy Festival - 12-13 July, 17-19 July
Ealing Blues Festival - 20 -21 July
Ealing Jazz Festival - 24 - 28 July
London Mela - Sunday 1 September
Another exciting event will be announced soon.
Tickets for Ealing Comedy Festival will be available to purchase in advance. Details will be made available in the coming weeks.
Let's hope the sun shines down at some point - hopefully throughout all the festivals this year.
20th March 2013