Celebrating the Borough' Polish connection
Related Links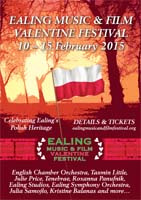 Participate
Comment on this story on the forum
Poland will be the focus for this year's third Ealing Music & Film Festival
The Festival programme celebrates Ealing's Polish connections music and cinema, some well known and others seen and heard for the first time. It will take place from the 10th to the 15th February in and around central Ealing.
There will be orchestral concerts from the English Chamber Orchestra, Ealing Symphony Orchestra and Ealing Youth Orchestra also more intimate performances taking in the piano music of Frederic Chopin played by virtuoso Julia Samojlo the choir Tenebrae who contrast the pure beauty of music by Renaissance masters Palestrina and Victoria with the work of Pawel Lukaszewski, a contemporary composer.
The film programme in cooperation with Ealing Studios, Ealing Club and the Polish Cultural Institute will offer a range of feature films, Screenings will include Kryztof Kieslowski's 1980 masterpiece Camera Buff as well as The Pianist (2002) and St Trinians (2007).
There will be 'Talking Head' discussion with improvisor Robert Sholl who will explain how he rediscovered the excitement of the silent movie era where film scores were instant creations and will improvise two of James Sibley Watson's earliest experimental silent films, The Fall of the House of Usher and Lot in Sodum.
Julian Gallant, Artistic Director of the Festival said: '' It's simple- our Festival celebrates the deep human and cultural heritage shared by Britain and Poland. That's what will bind a wide range of music and cinematic styles, and it's all happeing over five glorious days in Ealing.''
Patrick Chapman, Chairman of the Trust said: '' This is our third festival and we are proud to be able to bring this new programme to the Borough and help local musicians and artists through our scholarships.''
20th January 2015