Community challenge will be a blooming success
Related Links
London Challenge Network in action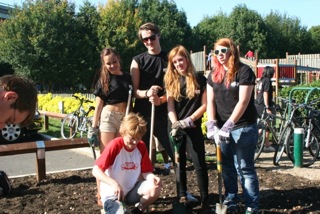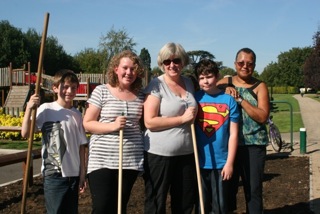 Volunteers: David Bick, Lauren and Harry Walsh, Carol Lamb and Linda Massey, Chair of Boston Manor Residents Association.
Participate
Comment on this story on the forum
Over a 100 people turned out on Sunday 2nd October in Boston Manor Park to plant 3,000 spring bulbs in the blazing sunshine as part of a Community Challenge.
It was back breaking work in the heat of the sun but around 60 teenagers from the Challenge London Network were there in force planting snowdrops, crocuses, bluebells and hedging plants. The 15 and 16 year olds came from all over west London to complete their last summer challenge to help out in the local community.
"It's fantastic to see the young focused on the community rather than consumerism – good team work" said Julie Bicknell, a local resident who had come down with her children to lend a hand.
The event was organized by Linda Massey, Chair of the Boston Manor Residents Association who is a well known for her dedication to the local community. She leads a dedicated group of park volunteers who raise funds and run the Pavilon Café at the weekends.
Hounslow council were forced to withdraw some of the services to the park seven years ago which inspired the residents to take control and do something about it.
Linda was delighted with the turnout. "The council resurfaced the car park and we were left with a piece of waste land with no one to take care of it so we took action and decided it was our job to make it more attractive. This is the 'Big Society' in action."

It was a real community effort Hounslow Borough Council provided the hedging, The Community Payback and Young Offending team prepared the ground for planting. The Friends of Boston Manor donated £500 and The Challenge Network donated £400 for the bulbs.

Sally Smith
3rd October 2011