Car boot sale at The Questors Theatre
Related Links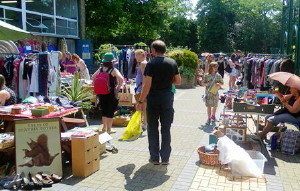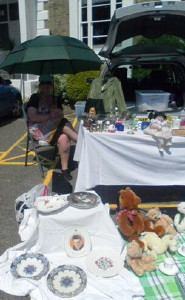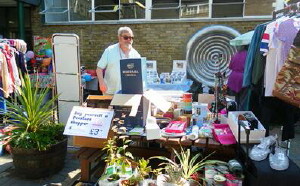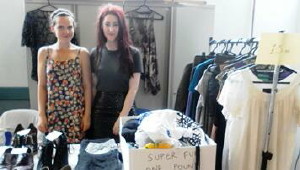 Participate
Comment on this story on the forum
Wimbledon's exciting final between Andy Murray and Novak Djokovic was on Sunday and you'd be forgiven for thinking most of the country were at home (or in a pub) cheering on the players.
Not so.
In a bid to bag some bargains, Ealing's community turned up at The Questor's Theatre for a summer car boot sale ...and a summer heatwave.
For the third year running, this event has pulled in regulars and locals with it's uniquely entertaining marketing method: costumed actors interacting with busy shoppers on the broadway and handing out leaflets. It clearly works as the car boot and table traders open and immediately there were a steady stream of customers.
Dictated by the theatre's busy programme, which gives 18 shows annually, the idea for the car boot was originally hindered by the lack of physical space.
The outside area is used all day as a car park for theatre members, while the inside is usually used for teaching and rehearsals. However, public demand gave way to the first car boot sale and the event now runs at varying times in off-peak June, July or October months.
Organiser, Maggie Turner, has been a member since 1964, when Questor's main playhouse was built. She hopes that the event raises a lot of money, with profits from stall hire and community stalls going into the QRenew fund, the Questor's renewal and refurbishment fund:
"There's always redecoration needed. And then there are some big projects like renewing the seating in the studio theatre. And we also need some flexible rostra – the raked platform on which the seats sits – to move seating more easily".
Questor's is a volunteer-led organisation, and this is reflected in their drive to benefit the community – from offering free backstage educational tours every Wednesday at 8pm, to their engagement with the local neighbourhood.
So much so, that neighbours joined in with the event. Debbie Walker, 65, with her daughter Hope Abbott, 23, and dog, Iggy, set up shop for the first time when hearing about the event:

"We've been living in the house for three and a half years and became friends with the maintenance man, Mike. Also, Iggy was the star of Annie, the Christmas panto, two years ago. So they keep in touch with us. They're very friendly and good neighbours."
One of their first sales is a box of two Nintendo gameboys, charger and a set of games for £50.
Over at the Questor's stand, Ealing resident Rosemary R, 54, shares her joy as she spots a whole collection of books by her favourite author on sale for ten pounds.
Questor's member and regular car boot seller, Pam Redrup, brings along her vintage collection of plates for sale but comments that most buyers are looking for smaller objects to buy.
She became inspired to get involved after seeing her friend Beverley sell at boot sales each weekend:
"I have the car boot sale bug. They're a good social event. I've been relaxed at every single one I've done."
69 year old, Valerie Rudd from Perivale also regularly takes part in boot sales but instead thinks items today are more expensive, making it harder for people to buy:
'I've run a charity shop in London and I know what it's like. What's wrong? Everything's too expensive, even in charity shops. Business rates are too high."
The unrelenting temperature, reaching the high twenties in degrees, was a big talking point. Some raised umbrellas, others raised glasses of Pimms and made the most of the summer rays.
One demographic noticeably missing from the event was young people selling and buying. Out of 18 traders, only two stands were run by people under the age of 25.
Friends Charlie Ransom-McCarrick and Francesca Prudente, both 25 and in the fashion industry said they would do the event again and encourages young people to get involved.
Charlie said: 'it got be out of bed before Noon. I've met some really nice people. It's just been a quite a fun Sunday activity that perhaps I wouldn't have thought of doing."
Francesca thinks that "it's quite good. Especially because you make some extra cash."
Meena Toor
@journomeena
July 10th 2013