Related links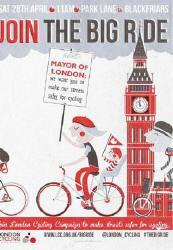 Ealing Cycling Campaign will be leading two, fully marshalled, feeder rides from Ealing Town Hall to this event.
The first ride leaves Ealing Town Hall at 9.00am that is suitable for families and less confident cyclists.
Slightly longer and slower than the 10.00am ride, this ride will be using less busy roads and cycle paths. The second ride leaves Ealing Town Hall at 10.00am.
This route will be faster and uses the Uxbridge Road and Holland Park Avenue (but avoiding Shepherd's Bush roundabout).
The Big Ride sees 10,000+ cyclists cycling through Central London to send a message to the mayoral candidates that London needs to be made better and safer place to cycle in. The Big Ride starts from Speaker's Corner. The more the merrier. Please come and join in the fun!
April 13, 2012