It's discreet and rather unobtrusive and situated on Bond Street where the Old Orlean's restaurant used to be and you could easily walk straight past it.
I'd suggest you slow down and and take another look at Ealing's newly opened Hotel Xanadu.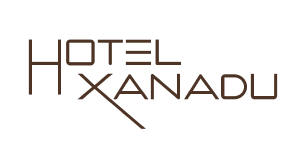 For the uninitiated it's not a homage to Olivia Newton John's song or the film of the same title. It is of course a reference from the classic poem of 1816 Xanadu- Kubla Khan by Samuel Taylor Coleridge.
It's described as a 'boutique' hotel but I think that word sounds rather dated now, I would suggest that it's an 'international' or 'global' hotel because once inside you could be a million miles away from Ealing.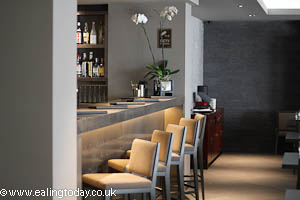 Entrepreneur and designer Jalal Al -Yawer has transformed this former office block complex into a luxury development of 48 bedrooms plus bar and restaurant.
He says:'' Design is a true passion of mine and with Xanadu I wanted to create a bespoke brand, synonymous with genuine quality, attention to detail,good food,charming comfort,relaxing ambiance and a cool trendy atmosphere.'
It is most certainly relaxing. The combination of high quality fixtures and fittings, the decor, laid-back music and very efficient (but never in your face) staff all help ensure you can enjoy a drink or meal in peace.
We were invited to sample from the express lunch menu - which, although small, is an absolute delight.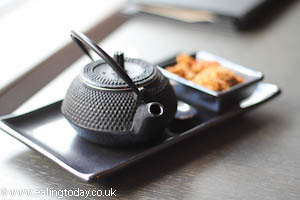 The Koobla restaurant is inspired by the Silk Route and the menu reflects the unusual cuisine and spices that Marco Polo enjoyed on his journey through Europe and Asia.
If spicy food isn't normally your thing you may feel somewhat limited as there is nothing 'bland' about this lunch but I would urge you to try for yourself as the combination of taste and textures had my tastebuds tingling.
I had the Javanese Vegetable Lodeh - a creamy and delicately spiced coconut curry.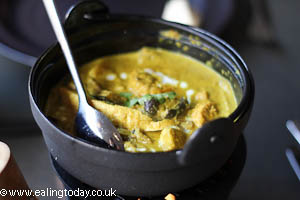 My companions chose the meat dishes, a Five Spice Beef Shank with Noodle Soup and a Strait of Malacca Lamb Curry.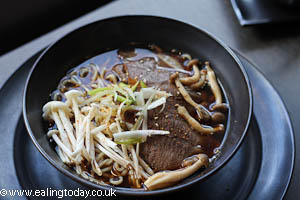 We shared a selection of delicious bread (roti) and vegetable side dishes including the greens, unusually titled 'Morning Glory'. The maitre d' was more than helpful in explaining the menu and and offering his own suggestions.
The food comes in small or large portions - I chose small which was just right for me and fortunately allowed enough room for the delicious desserts. Raspberry and White chocolate cheesecake - need I say more?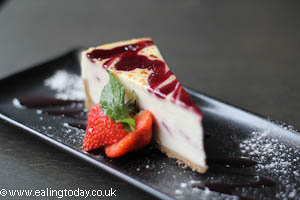 My husband had the banana spring rolls and ice-cream - which are on the theme of banana fritters but far lighter and absolutely delicious (I had a bite).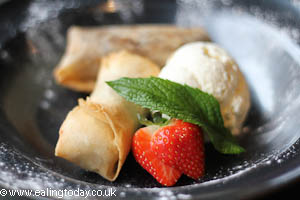 Empty plates were testimony to the quality of the food and we were all left feeling very happy with our choices. Oh and mustn't forget the coffee - it was lovely and worth a mention too.
At around £5.50 for my 'small' curry with rice costing an extra £3 this was extremely good value given the high quality of the food, and once word spreads about the excellent chef, Kin, (who has worked with and also bears a resemblance to Ken Hom) I expect the restaurant to become far busier.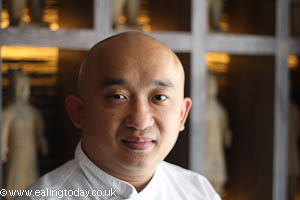 I was particularly pleased to see a cocktail menu with a wide variety of choices. Until now where in Ealing can you go if you fancy a nice drink? This is ideal and given the laid-back atmosphere I could quite happily sip away in Xanadu from lunch until dinner and beyond (if only....).
For those with a less alcoholic inclination the hotel also offers an afternoon tea option, with sandwiches and cakes costing £30 for two. Another great idea but perhaps a bit on the pricey side and my suggestion here would be to not just to have a 'set' menu but allow customers to pick and choose from a selection of individual items.
Xanadu is a 'luxury' hotel meaning of course it's not cheap - room rates start at £150 for a double, but it is far more comfortable and upmarket than your basic Ealing hotel. All rooms have flat screen tvs and wifi access and guests can hire i-pads or even bicycles during their stay.
The new hotel or perhaps I should say 'stately pleasure -dome' adds a real touch of class and is very welcome addition to the centre.
I hope Ealing will support this new venture and wish Xanadu every success.
Annemarie Flanagan
11th October 2012