Related links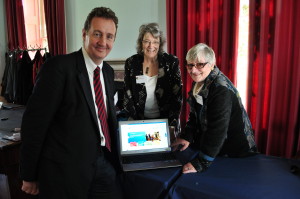 Council Leader Julian Bell with Angela Bell, Chair of Ealing Community and Voluntary Service (CVS) and Carmel Cahill, Deputy Chief Executive of Ealing CVS at the launch of the Ealing Involved online community portal.
Sign Up For The EalingToday.co.uk Newsletter
A new website has been launched in Ealing to support local residents, community groups, businesses and public bodies who are making a difference and to highlight the work of local community heroes.
The "Ealing Involved" portal www.ealinginvolved.org is a joint initiative by local charity Ealing Community and Voluntary Service, Ealing Council, and social media company Stickyboard.
Local people can offer their talents and skills through volunteering, and residents and businesses can donate surplus goods or equipment to small neighbourhood projects or make direct donations to local good cause community groups.
Residents and community groups will also have easy access to information on local campaigns and consultations and be able to post up short videos and "soundcloud" interviews showing local communities in action in Ealing.
Commenting on the launch Andy Roper, Chief Executive of Ealing Community and Voluntary Service said; "ECVS has been supporting local community action for 35 years. We can now use modern technology to make it even easier for local people and organisations who want to make a contribution to their local community".
Ealing Council Leader, Councillor Julian Bell said; "I'm delighted that community representatives, businesses, the police, health organisations, and local MPs are all keen to get involved. Together we can create a facility that has real community benefit".
Thomas Sweetman, Director of Stickyboard said; "We are really pleased to be involved in launching this exciting project- which aims to demonstrate Big Society ideas in action in Ealing".
The Ealing Involved project has been funded through the Transforming Local Infrastructure Fund managed by the BIG Fund on behalf of the Cabinet Office and by Ealing Council
12th November 2012