Residents and businesses on Bond Street affected
Related Links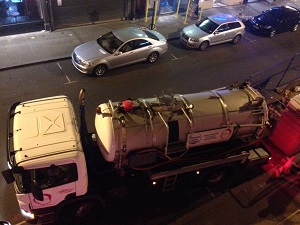 Participate
Comment on this story on the forum
Thames Water has apologised to residents in Ealing after a sewer collapse on Bond Street has caused ongoing nightime problems.
Locals say say they've been disturbed late in the evening by tankers and haven't being kept informed as to what is happening.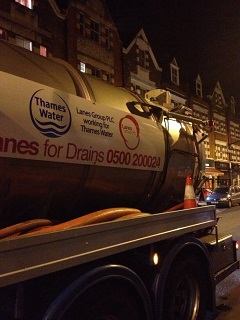 Nichola Jones says it's been going on for a few weeks now, but, according to initial information, the work was supposed to have finished by 23rd April.
She contacted Thames Water and tweeted:
'' Residents are sleep-deprived & ignored by TW.Why only done @ night? Why overrunning? No regard for non-commercial properties.
Thames Water has told us the problem has been caused by a collapsed sewer and to prevent properties flooding with sewage, they have to tanker away waste water from the pipes at night while they organise and carry out the sewer repair.
They say they can only use the tankers at night as that is the only time they can access the property to take the waste away.
The sewer repair has had to be delayed because there are high voltage electricity cables in the ground and they have to be moved to enable workers to be safe in any trenches.
A spokeswoman said: "We're sorry for inconvenience caused to residents and businesses because of our sewer collapse. While we plan how to best carry out this complicated repair, 4.5 metres below the road surface and close to high voltage electricity cables, we're using tankers to take away the wastewater in the pipes. This is absolutely essential because if we didn't, nearby homes and business would be flooded by sewage."
They are hoping to decide on Tuesday when work can start on the repair.
1st May 2014