They play crucial part in making Ealing's race a success
Related Links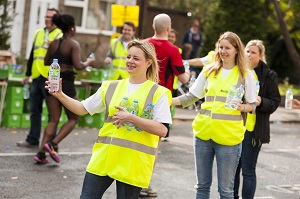 Participate
Comment on this story on the forum
It's already been voted by runners as the best half marathon and one key reason has to be down to the hundreds of volunteers who help out.
Organisers of the Ealing Half Marathon are currently recruiting volunteers for the 2014 race, which takes place in West London for the 3rd time on Sunday 28th September.
All volunteers receive a free breakfast, t-shirt, memento medal and training. Free race places for the Ealing Half Marathon 2015 are also up for grabs for any volunteers who feel inspired to run the 13.1 miles after experiencing the unique race day atmosphere this year.
500 volunteer places are available on race day including race marshals, water station teams, baggage co-ordinators, race village co-ordinators, race pacers and traffic co-ordinators.
All details can be found on the website www.ealinghalfmarathon.com/volunteer. The training sessions for volunteers take place during the week and at weekends in the two weeks leading up to race day, with volunteers requested to attend one session to receive the full brief and details.
The organisers are also keen to hear from community groups, clubs and charities who can organise a team of volunteers in return for a financial contribution as well as exposure and promotion at the event.
Event Co-Ordinator Sandra Courtney commented: "Volunteers are a key part of the Ealing Half Marathon, with each and every one of them actively contributing to the event. Last year hundreds of volunteers got involved and helped us spread the #EalingFeeling and win a prestigious award for the race with the best atmosphere.
"Volunteering is a great opportunity to feel part of the event and to meet new like-minded people, and it is also a fun and rewarding experience. Anyone wishing to show their support for the event and to get involved just needs to complete the volunteers form on the website and then someone from the team will get in touch with them."
The Ealing Half Marathon, which attracts 6,500 runners, was voted number one race for 'best atmosphere in 2013' by Runner's World UK and also recently won the 'Best Half Marathon' award at The Running Awards.
One of only three half marathons in London held on fully closed roads, the race starts and finishes in West London's Lammas Park. Registration is open with entry fees of £32 for affiliated runners and £34 for unaffiliated runners. All finishers receive a distinctive medal and an online e-goody bag after the race.
Official race partners include ASICS, Clif Bar, Move Clinics, Mercedes-Benz Brentford, Xempo, The New Inn, Ealing Broadway Centre, Ealing Gazette, Ealing Eagles and Ealing Council.
Go to www.ealinghalfmarathon.com for further details and to register, like the Facebook page www.facebook.com/ealinghalf and follow @EalingHalf on Twitter to keep up to date with all the latest news about the Ealing Half Marathon.

June 18th 2014