Houses with Friday rubbish collections should benefit
Related Links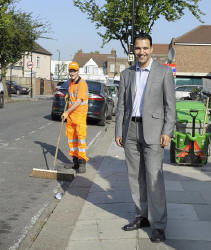 Councillor Bassam Mahfouz, with street cleaner Peter Richter. The photo was taken in Greenford in one of the 352 streets to benefit from the new street cleaning regime.
Sign up for email newsletters from
Participate
Comment on this story on the forum
Thousands of Ealing residents in 352 streets in the north of the borough will benefit from improved street cleaning services from Saturday, 12 June.
Most residential roads are cleaned the day after refuse and recycling collections, to ensure litter that has fallen from black bags or recycling containers is quickly cleared-up. Now 52 miles of streets in the north of the borough, with Friday waste collections, will be cleaned on Saturday instead of residents having to wait until the following Monday.
Cabinet member for Transport and Environment, Councillor Bassam Mahfouz, said: "Our streets are already among the cleanest in London, but there's been a clear difference in service for those living north of the A40 from Northolt to North Acton. I'm glad to be able to announce that from this Saturday we will provide the same service to all residents across the borough, regardless of where they live.
"At the moment, rubbish can build-up across the weekend, which can be unpleasant for residents and their visitors. We're committed to making Ealing cleaner and I think residents will really notice the difference. I'm keen to receive feedback from residents on how the service establishes itself across the north of the borough."
Residents with Friday refuse and recycling collections are being asked to keep an eye out for their street cleaners this Saturday and report any comments to the council.
Residents can report any problems online or by calling the Customer Services team on 020 8825 6000.
June 8, 2010