'The only thing better than singing is more singing," said Ella Fitzgerald.
How right she is. We all do it - in the car or shower perhaps - but unfortunately as we get older we can often get put off from singing out loud. It's often other people who tell us we can't sing, we believe them and sadly stop.
I love singing but have never felt comfortable enough to belt the songs out - my breathing has always been an issue and I guess I have worried about what other people think too.
So, I jumped at the opportunity to take a few lessons and join the taster class held by local teacher Elizabeth Lusty.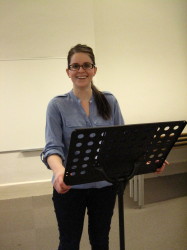 Elizabeth is a trained musician and fabulous vocalist - but also a marvellous teacher.
In the one-to-one lessons, she took me through a variety of fun exercises before I was let loose on a song (My Favourite Things - Sound of Music).
With her advice and encouragement and breathing tips I sang with gusto - enjoying every minute.
Elizabeth believes that singing is good for you both physically and mentally, and is a great way of making friends.
Her courses (held daytime and evening) attract men and women of all ages. Well known hits from the Beatles, Abba and Elton John as well as more recent tunes are taught, strangers begin to bond and soon become friends.
Elizabeth says: '' It's amazing the power of song. It can uplift you on a personal level but when you sing with others it can unite and gives you a great sense of community.'
You only have to look at a spectators at a football ground to see evidence of this.
Singing is good for you on many levels and there has been much research done to prove this.
Professor Graham Welch, chairman of music education and head of the school of arts and humanities at the Institute of Education, University of London, says:
"There is currently a lot of interest in wellbeing and social inclusion and an increasing interest in how music in various forms can support a sense of being part of society and increase your self-esteem. A great deal of research is being done into music and medicine and how music can ameliorate pain." Studies in the Journal of Music Therapy suggested that group singing helped people to cope better with chronic pain.
So perhaps it's time you dusted off those vocal chords and gave it a bit of 'do ray me'?
Go on - you know you want to!
Details
When : 2-3pm Wednesdays
Where :The William Hobbayne Centre W7 2HB
Cost : £50 per 10wks (excluding half term)
When : 7-9pm Wednesdays
Where: Brentside High School W7 1JJ
Cost : £85 per (10wks excluding half term
For more info contact elizabeth@love2sing.co.uk or call 07989 560603
Annemarie Flanagan
5 May 2011