Petition organised by Save Ealing Centre (SEC)
Related Links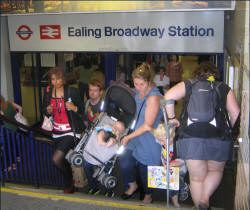 Participate
Comment on this story on the forum
The public has overwhelmingly supported SEC's call to Ealing Council to get a move on and improve Ealing Broadway Station.
More than 1500 people have signed our petition to the Council and more are signing all the time.
Richard Chilton from SEC will formally present the petition to the Council at its next full meeting in the Town Hall on Tuesday, 18th October.
Councillors are expected to respond and there will be a short debate about it. This is a public meeting so all may attend but not speak.
Space is fairly limited so anyone interested should arrive early.

Background
• SEC launched its petition asking the Council to fix Ealing Broadway station in June 2011. Well over 1500 people have now signed the petition either on line or on paper. This is enough to for us to seek a Council debate on the matter.
• We think that Ealing Broadway - West London's busiest transport hub and gateway to the Town Centre – is a disgrace.
• The entrance is too small and even dangerous
• There is no step-free access to either the booking hall or the platforms
• The forecourt is cluttered, with no proper set down space
• Outside, pedestrians have to cross a main road or push along narrow pavements
• Bus stops serving the station are badly organised, congested or too far away.
• Constant requests for improvement have been ignored. Too many different organisations – including Network Rail, First Great Western, London Underground, TfL, London Buses, and Ealing Council - are involved, so nobody accepts responsibility for action.
• Improvements promised through rebuilding the station for Crossrail are now under threat. Cost cutting has reduced these to almost nothing, and the completion date has been pushed back. Crossrail is close to finalising the plans for the station which are likely only to be concerned with increasing its capacity to handle extra passengers.
• The opportunities to improve the station so that it becomes a real asset in revitalising the centre of Ealing are not being pursued.
16th October 2011