More females joining the movement locally
Related Links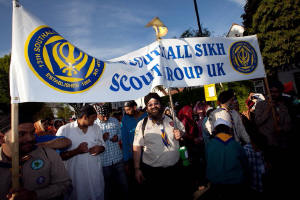 Participate
Comment on this story on the forum
Could the sharp increase in the number of women joining the Scouts in Ealing be linked to UK Scouting's most high profile volunteer, the Duchess of Cambridge?

Since the Duchess joined the Scouts last year, 70 women and 131 men in Greater London Middlesex West ( GLMW) have followed her lead and signed up as volunteers – an increase of 13.1%, - with females joinging the Scouts at a faster rate than men, according to new figures released by The Scout Association.

This trend has been replicated in the UK as a whole. In total, 1,350 women have signed up as volunteers since the Duchess joined the Movement – an increase of 3.2%. This compares sharply with 2011, when only 125 new female leaders joined the organistion.
The Duchess, who is a flexible volunteer, helps out with Scouts in North Wales, is one of 2,812 new adult volunteers to join this year. These figures represent the second biggest increase in adult volunteers since 1986.

Bear Grylls, Chief Scout, said:

"It's great that so many women and girls are joining the Scouts, more than ever before, and I am sure this increase has had much to do with the Duchess of Cambridge becoming a Scout volunteer last year.

''The Duchess is an incredible role model for young women and she helps us show that Scouting's not just for boys. She's also such a generous volunteer and everyone is so excited to have her in the Scouting family. Many people have followed her lead and are getting involved and enjoying the adventure!"

He added "All the young people at yesterday's Windsor Castle ceremony have given so much time and energy to achieve their Queen's Scout Awards, and I admire their spirit so much. They are huge inspirations to all the other Scouts across in the UK and I am so pleased that both the Duchess of Cambridge and Scouting have honoured them. Reaching Queen's Scout is a remarkable achievement & along the way they will have all had the adventure of a lifetime!"
As one of the UK's most high profile figures, it's hoped the Duchess' involvement will inspire other adults to get involved in Scouting. With waiting lists at an all-time high of almost 38,000, there is an urgent need for more volunteers, in order to meet the growing demand.
Overall, GLMW have seen adult membership grow by 13.1% in the past year, with adult numbers rising from 1536 to 1737. Overall membership has risen from 7922 in 2008 to 8787 in 2013.
Satyadeep Singh Gujral, from 13th Southall (Sikh) Scouts said:

"When I first started volunteering I was worried about how much time I'd have to volunteer, but with the Scouts it's all about flexible volunteering, and giving as much or as little time as I'm able to, around your other commitments. I've now been a volunteer for 15 years and I'm always looking for more things to do.

''If someone as busy as the Duchess can find time to volunteer, anyone can! One of the young adults at our group was at the training day with the Duchess in Cumbria last month and she inspired him to volunteer even more, alongside being a student.

''Volunteering for the Scouts is honestly the best thing I have done. There's a great joy in seeing the satisfaction and sense of achievement of the young people learning skills they would never be able to do if it wasn't for Scouting. I've been all over the world with Scouting, and I've got my sights set on going to Japan in 2015."

Despite attracting more adults, the Movement still has 37,867 young people on waiting lists who are unable to join until more volunteers sign up.

The Duchess celebrated the achievement of over 400 Scouts at Windsor Castle. They are receiving the Queen's Scout Award, the highest honour a Scout can achieve. The Queen's Scout Award recognises personal achievement, endeavour and service to others, and is the ultimate goal of Scouts in the UK. Chief Scout and international adventurer Bear Grylls also attended the event at Windsor castle.

23rd April 2013