Cleaning up and spraying graffiti on walls on same day
Related Links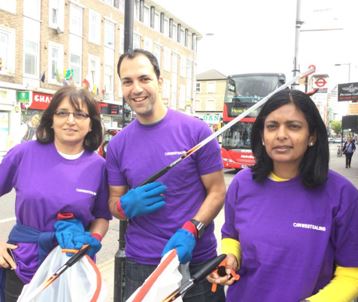 Participate
Comment on this story on the forum
Ealing's newest MP, Rupa Huq, got stuck in and joined a mass clean-up of West Ealing, then, on the same day spray painted walls in Acton.
As part of the Cleaning West Ealing big clean up, Rupa - newly elected Labour MP for Ealing Central and Acton, along with council cabinet members Councillor Binda Rai and Cllr Bassam Mahfouz, turned their hand to litter - picking and paint scraping on the Uxbridge Road in preparation for the pavement being jet washed and waste bins cleaned.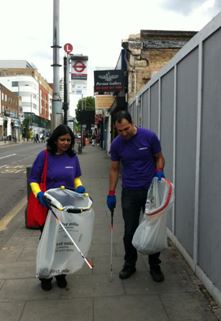 Later that afternoon Rupa took part in a 'paint jam' with Ealing's cabinet member for health and wellbeing Cllr Hitesh Tailor and the borough's Deputy Mayor Patricia Walker in the NW10 area of East Acton ward where the three of them 'got their spray on'.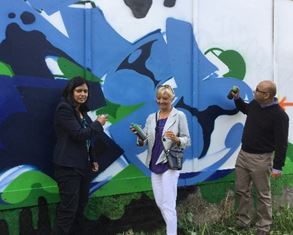 The initiative is part of a campaign from housing project 'the Collective' who are regenerating a block for student accommodation. The organised graffiti-permitted-zone on the hoarding outside the perimeter aims to brighten up the building site inside while works continue pending its opening next year. The paint jam attracted graffiti artists from as far afield as Bristol as well as other parts of London.
Ms Huq said: '' It may seem a bit contradictory to be removing graffiti in west Ealing in the morning then applying graffiti in East Acton in the afternoon but the two things at opposite ends of the seat shows how diverse Ealing Central and Acton is as a constituency. Both events were very family oriented with kids and parents mucking in which I feel is much of the character of Ealing, Acton, Chiswick and the NW10 part of the borough bordering Harlesden where the paint jam took place.''
4th June 2015