Second offence in two years for coffee company
Related Links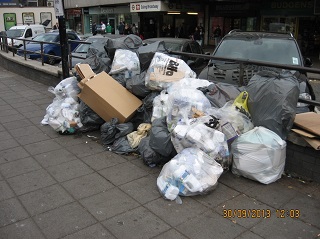 Participate
Comment on this story on the forum
Starbucks in Ealing and two Acton businesses have been taken to court for dumping rubbish.

The coffee shop, beside Ealing Broadway station, was issued with a formal notice banning bags of rubbish from being left in the street between 10am and 5pm each day.

Despite the notice, rubbish was left by Starbucks staff and in September 2013, council envirocrime officers took photos of a large pile of rubbish blocking the path of passers-by and commuters in front of the station.
This came two years after the company was taken to court for the same offence and fined £800.

After pleading guilty to leaving commercial waste on a public highway, at Ealing Magistrates Court on Thursday, 1 May 2014, Starbucks was fined £800 and ordered to pay costs of £448.72 as well as a Victim Surcharge of £80, bringing the total to be paid to £1,328.72.

On the same day Ealing Council prosecuted two Acton Vale businesses for not disposing of commercial waste properly.
Staff from Lebanese restaurant, Laziz Foods Limited of the Vale, Acton were caught on CCTV dumping sacks of waste on the pavement despite the company being warned by the council. Director, Iman Chamamit pleaded guilty to six offences.
Mrs Chamamit and the company were ordered to pay a penalty totalling £1,140.

The owner of Vale Food & Wine, Velmurugu Rajeswaran, pleaded guilty to allowing staff to pile rubbish bags on the pavement and failing to provide the council with evidence of commercial waste disposal arrangements. He was ordered to pay a fine of £400 along with council costs of £551.96 and a victim surcharge of £40.

Keith Townsend, executive director of environment and customer services, said: "Any business caught fly-tipping is at risk of receiving an unlimited fine or up to five years imprisonment, as it is illegal and unpleasant for residents and the local environment.
"It is in everyone's best interests for businesses to dispose of their waste correctly and we urge them to do so."
To report fly-tipping visit: www.ealing.gov.uk/reportit
May 13 2014