The Bells have been ringing out in Ealing today
TV presenter Angellica Bell joined her father, Ealing Council Leader Julian Bell, in Ealing today (3rd Sept) to launch a campaign to encourage people to support small businesses affected by last month's riots.
Mum to be Angellica was joined by husband Michael Underwood as they shopped for clothes for their first child, which is due this December. The couple visited Babye on Ealing Green, before visiting businesses in West Ealing.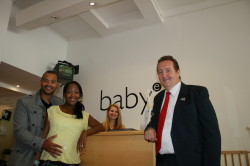 This week the council announced there would be free parking in six of its car parks each weekend in September to tempt people into the town centres. The council has also provided free advertising space on lamppost banners and on the front of its main offices, Perceval House, to support Ealing BID's Shop Local campaign.
Angellica Bell said: "It's sad that so many independent businesses in Ealing were devastated by the riots. It's good to see that shops are starting to reopen, but I know for some it will be many months before they fully recover. The best thing we can now do to help people get back on their feet is to support small businesses by shopping in riot hit areas and we're happy to do our bit."
Julian Bell said: "The riots were truly awful, but the way the community has responded has been absolutely exceptional. There's a real sense of pride in the area and everyone really is keen to do what they can to help, so I'm sure we'll get a lot of support for our Shop Local campaign. I'm delighted that the council has been able to provide free parking in six car parks to get shoppers back into the worst affected areas."

3rd September 2011