Southall MP and Council Leader visit shops affected by Monday's violence
The Southall Labour MP, Virendra Sharma, and Ealing Council Leader, Julian Bell, were in West Ealing today (Saturday 13th Aug) to show solidarity.
They toured shops and restaurants and heard from a range of people speaking about their experiences of when hundreds of marauding thugs descended.

Despite experiencing a huge body blow on Monday night the area was bustling today.
Most shops were open as normal - even the charity stores also hit by the hooligans - and plenty of repairs were evident.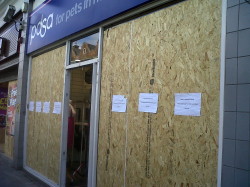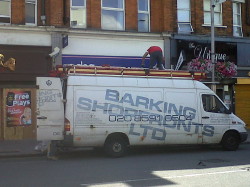 However Seba Electronics - run by Brij Sehgal for almost 40 years - had all its stock cleared out see some shocking footage below:
Today it was still shut.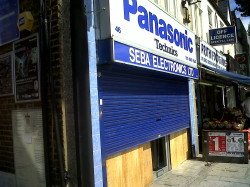 Speaking in the Boots store - another victim of mass looting - MP Virendra Sharma said it was vital for everyone to support their local business.
'' We must look forward now, and rebuild. Everyone in the community can help by simply coming out and spending in their local shops.''
Council Leader Julian Bell said a special meeting will be held on Tuesday (16th August) at the Council House (7pm).
Traders, Borough Commander Andy Rowell and residents who had been affected would all be speaking. The meeting is open to all and he urges everyone to come.
He announced that the Council will be taking a hardline with anyone found guilty of being involved in the riots.
Councillor Bell says: '' Ealing Council will seek to evict anyone from their Council home if convicted of taking part in the troubles.''
13 August 2011