Police launch murder investigation into the death of Richard Mannington Bowes
A 22 year old man has been arrested on suspicion of murder, rioting and burglary following the death of 68 year old Richard Mannington Bowes.
At around 10.45 pm on Monday 8th August officers in Ealing were dealing with sustained violent disorder in Springbridge Road, when they became aware of a man being attacked.
Richard Mannington Bowes, aged 68 of Haven Green, Ealing was taken by ambulance to hospital where he died just before midnight last night (Thursday 11 August).
An incident room is open at Sutton under Detective Chief Inspector John McFarlane of the Homicide and Serious Crime Command.
DCI McFarlane said: "This was a brutal incident that resulted in the senseless killing of an innocent man. I still need the assistance of the community who may have witnessed the attack on Richard, to come forward and provide information or images they may have recorded on mobile devices. This information could be crucial in catching his killer."
Detectives have released a still of a potential witness who was at the scene and may have significant information that could assist the enquiry.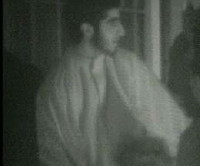 Potential Witness
Commenting on the sad news of Mr Mannington Bowes death, Council Leader, Cllr Julian Bell said:
"Although I did not know Mr Mannington Bowes, what I know about him I liked and my thoughts are with his family and friends.
''He was out on Monday night trying to protect the area where he lived and standing up for what is right. Sadly, someone who will clearly never share these values murdered him as a mob rampaged through our normally quiet streets.
"Ealing's Mayor is launching a fund to help the victims of the riot in Ealing and has decided it would be fitting to name this in his memory - it will be called the Richard Mannington Bowes Relief Fund."
"As a mark of respect, Ealing Council is flying the Union Flag over Ealing Town Hall at half-mast today. "I would urge anyone with information to contact the police."
Anyone who can assist should call the incident room on 020 8721 4205; if you wish to remain anonymous, call Crimestoppers on 0800 555 111.
12 August 2011