New surveillance method being tested out in Ealing
Related Links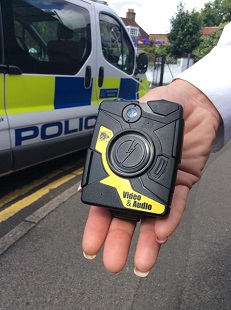 Participate
Comment on this story on the forum
Police in Ealing are wearing video cameras as part of a twelve month trial.
Ealing is one of ten London boroughs that are participating in the pilot. Officers from two of the borough's five Emergency Response and Patrol Teams will use them.
They've been given guidance and training about when the cameras are to be used - they will routinely collect evidence at incidents such as domestic abuse and public disorder. They will also be used for potentially contentious interactions such as the use of stop and search.
The cameras will not be permanently switched on so interactions with the public will not routinely be filmed. Members of the public will be informed as soon as practical when they are being recorded.
The pilot, the largest in the world, will see a total of 500 cameras distributed to ten London boroughs. The findings of the year-long pilot will be evaluated by MOPAC and the College of Policing before any decision about a future roll-out is made.
This will show if the positive findings of the earlier trials are replicated on a large scale and provide valuable lessons on the best ways to take the technology forward.
Officers will 'dock' the camera at the end of each shift and upload the material to a cloud-based server. The images will be deleted after 31 days, unless required for evidential purposes.
Chief Inspector of Operations Tim Cummins, from Ealing, said: "We welcome this exciting new technology in Ealing and anticipate this will help increase public confidence and assist our fight against crime. Video captures events in a way that can't be represented on paper in the same detail. I am hopeful that the mere presence of this type of video can often defuse potentially violent situations.
"Securing evidence to provide justice for vulnerable victims, especially in domestic abuse cases, will be one of the benefits of officers wearing body-worn cameras. Other boroughs taking part in this pilot have already reported that the use of cameras has contributed to early guilty pleas where offenders know an incident has been recorded.
"This new kit will improving evidence and will make us more transparent in our day to day contact with the public, which I believe will boost the confidence the public have in police in Ealing."

28th July 2014