and finalist for 'exceptional customer services'
Related Links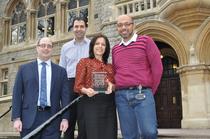 British Parking Awards- Parking Team of the Year
Participate
Comment on this story on the forum
Ealing Council's parking services team is the best in Britain - that's according to an annual event recognising best practice in the industry.
Ealing saw off strong competition from 11 other councils and private parking companies to win 'Parking Team of the Year' at the 2013 British Parking Awards. The team was a also finalist for the 'Exceptional Customers Services' award.
The team was recognised for its work on improving efficiency and customer service including introducing electronic (or 'virtual') parking permits, making the parking services section of the council's website easier to use, improving the online appeal system for PCNs and improving the waiting period for responses to letters and applications for permits.
It was also praised for prioritising safety in the council's off street car parks through the Police's Safer Parking Scheme and for cracking down on blue badge fraud.
Councillor Bassam Mahfouz, cabinet member for transport and environment, said: "Our parking team operates to the highest standards and is committed to providing excellent customer services. We are actually issuing fewer PCN and the number of successful appeals by customers has also gone down meaning that more residents are parking correctly and our staff are working more accurately and fairly. Our team plays a crucial role in keeping the borough's streets and car parks safe and in keeping traffic moving.
"The team has introduced significant improvements over the last couple of years that have made it easier for customers to communicate with the council and offer more, easier to use services. I'm delighted that they have been recognised as being the best in Britain."
For more information on parking in Ealing, go to www.ealing.gov.uk/parking.
A worthy award? What do you think of Ealing's parking team? Discuss on the forum.
20th March 2013