Ten shopping parades to benefit
Related Links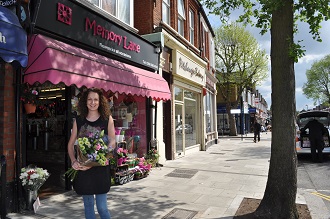 Amy Skehan outside Memory Lane Flowers.
Participate
Comment on this story on the forum
Local shopping areas are set for a spring clean after the council agreed to spend nearly £1million on tidying them up.
Parades in Southall, Ealing, Acton and Greenford will be upgraded.
This will mean roads and pavements will be resurfaced; clutter removed; parking and loading bays will be reviewed and improved; street signs will be replaced and access will be made safer for pedestrians and cyclists.
This year's £965,000 parades' upgrade programme includes the following shopping areas:
· Allenby Road, Southall
· Greenford Road, North Greenford (near Sudbury Town station)
· Hanger Green, Hanger Hill (near Park Royal station)
· Little Ealing Lane, Northfield
· Norbreck Parade, (north side), Hanger Lane Gyratory, Hanger Hill
· Norwood Road, Norwood Green
· Park Parade, Gunnersbury Avenue, Ealing Common
· Station Parade, Acton (near West Acton station)
· Wood End Gardens, North Greenford
· Wood End Way, North Greenford
Since the council started its programme to improve local shopping parades 30 schemes have undergone a facelift.
The council says it hopes that schemes like this, along with other initiatives, will help build community pride and encourage residents and businesses to be actively involved in improving their neighbourhoods.

Amy Skehan owns Memory Lane Flowers on Greenford Avenue near the junction with Drayton Bridge Road. Her shopping parade was recently improved making it more inviting.
She said: "There was a lot of disruption while the work was taking place, but I'm really happy with the finished result. The whole area looks brighter and cleaner and the new paving has also made it safer for pedestrians.
"I pay my business rates so I'm pleased to see investment in my local area. It's important to support small business owners like me as well as town centres."
An additional £635,000 will be invested in revitalising three local areas as part of the council's New Places for People scheme. Residents will be asked to put forward their ideas for areas that could be transformed into new community spaces. Proposals could include bringing derelict land back into use, refreshing tired play areas or creating a new street market.
30th April 2014