Related links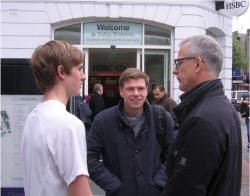 Bryan Paddick Lib Dem mayoral candidate in Ealing
Brian Paddick, the Lib Dems London mayoral candidate, visited Ealing last Saturday on a whistle-stop tour to listen to voters' concerns, accompanied by Mike Cox, candidate for Ealing and Hillingdon's London Assembly member.
High on the list of points raised by those he spoke to was the continued slow response of the authorities to victims of the riots.
One local resident, who was confronted in his own home by rioters on the evening of 8 August, has still to hear from the victim support team. Others have yet to receive any compensation from the official fund.
"The lesson I learnt as a senior office in Lambeth was that community relations have to be a top priority for the police at all levels," said Mr Paddick.
"Until people see the police as being on their side there can be no lasting improvement in reducing crime, and it needs someone with my experience to take on the important job of Police Commissioner for London, which is what the Mayor now is."
Mr Paddick said he was also pleased at the positive reception he has had to the Lib Dem plans for making public transport fairer particularly for the less well-off, such as the One Hour Bus Ticket, "Early Bird" fares and part-time travel card, all of which would particularly benefit people in outer London.
Boris Johnson has been in Greenford and Ken Livingstone has been in Acton
Other mayoral candidates include: independent Siobhan Benita, Carlos Cortiglia for the British National Party, the Greens' Jenny Jones,and Lawrence James Webb for Fresh Choice for London.
For more information and a full list of London Assembly member candidates visit www.londonelects.org.uk
9th April 2012