Local MP Rupa Huq raises case of local comedian in parliament
Related Links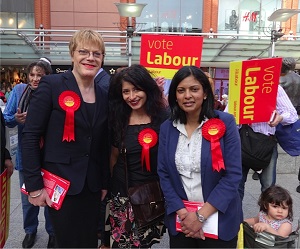 Picture L-R Eddie Izzard, Shappi Khorsandi, Rupa Huq and Shappi's daughter Vivi during the election campaign
Participate
Comment on this story on the forum
Ealing Comedian, Shappi Khorsandi's concerns over NHS accident and emergency provision have been raised in parliament.
The Labour MP for Ealing Central and Acton, Rupa Huq, discussed the issue in a House of Commons debate and highlighted the case of Ms Khorsandi's mother who'd suffered a seizure.
Mrs Khorsandi - who lives close to Central Middlesex hospital - was taken to Northwick Park because the A and E at Central Middlesex closed last year.
Dr Huq slammed the closures at both Central Middlesex and Hammersmith hospitals stating :
''The Government claim that these units have been saved, but their replacement—urgent care centres—cannot be used for emergencies, are staffed by general practitioners rather than consultants, and do not take ambulances. In short, they are not A&Es.''
She told the House about Mrs Khorsandi's experience :
''Her daughter Shappi Khorsandi told me that the hospital discharged her, even though she was not well enough. It was clear that there was no room for her. The mother had another fit at her daughter's house, hit her head on the sink, was taken to hospital again, and had a third seizure in front of the doctors. The daughter told me that they were amazing. Out of nowhere, five people appeared, and they were excellent; however, they had no time to breathe, let alone answer questions. NHS staff are doing the best they can, but they are operating in incredibly uphill circumstances.''
Rupa ended her speech saying: ''The famously airbrushed poster from 2010 that proclaimed, "I'll cut the deficit, not the NHS". In west London, that does not ring true. Ealing used to be known for comedy, but what has happened to our NHS locally has gone beyond a joke."
The full text of the speech is here:
6th July 2015