Applications need to be in by September 15th
Related Links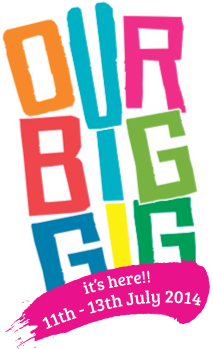 Participate
Comment on this story on the forum
An ambitious new music project has been launched with four roles on offer to support the development of a music development network in London.
Created as part of the Our Big Gig EXTRA project, national arts organisation Superact are looking to recruit and train specialist volunteers with responsibilities of fundraising, marketing, volunteer management and leading community music to build an ongoing programme of music making opportunities for people in the London boroughs of Ealing.
With interested applicants needing to apply by 15 September, the new network will be supported by Superact to help build a community music programme for London from April 2015.
With support from the Department for Communities and Local Government, the team will be given a budget to support initial development of events aiming to bring communities together through shared music opportunities.
Commenting, Katharine Lane, Director of Superact said:
"Our Big Gig EXTRA builds on the success of Superact's nationwide festival Our Big Gig which brings people from all backgrounds together through music each July.
"At Superact we know that music is a unique part of a community's identity and through the Our Big Gig EXTRA project we aim to give a wide range of people the chance to access music making opportunities in London"
To download a role description and application form visit http://bit.ly/1q2LRP7
August 25th 2014