Related links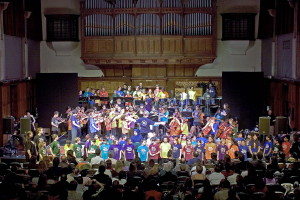 Children performing at the Ealing Music Service's annual World Music Festival

Jubilation!
More money has been made available to improve music provision in Ealing's schools and clubs.
Ealing Council's music service has been awarded nearly £1million from Arts Council England to expand music education in the borough.
The music service works closely with schools and other organisations to provide high quality, affordable music lessons and activities. It also runs several borough-wide ensembles that are open to young people in the community and currently teaches more than 6000 pupils.
The service offers a diverse range of music tuition including the Japanese drum, the taiko, and the Indonesian percussion ensemble, the gamelan. This diversity is celebrated through the staging of the annual World Music Festival.
The Arts Council England funding will allow the service to work more effectively with all of these organisations through a new Ealing Music Partnership.
It will also help increase the number and range of ensembles, choirs and vocal groups available as well as support studentsfrom their first musical steps at nursery right through school to the most talented young musicians who continue to university.
Several new music programmes and events have already been launched. The first, the Ealing Youth Prom, will take place next month and will showcase performances from some of Ealing's best young musicians. And Mini Melodies is a new music programme specially tailored for the youngest students in primary schools.

Councillor Patricia Walker, cabinet member for Children and Young People, said: "There are so many advantages to a music education. Not only is it a wonderful outlet for creativity and self-expression, it also improves children's self-confidence, problem solving skills and discipline.
"We want as many of our young people as possible to have access to music on a regular basis, which is why I am delighted that our excellent Ealing Music Service has secured this funding. I hope that as many young people as possible take advantage of the opportunities that it will create."
To find out more about the Ealing Music Service, go to www.egfl.org.uk/music, email ealingmusicservice@ealing.gov.uk or call 020 8843 9121.
29th May 2012