Viv Ellis (almost) gets to become a film star for the day
Related Links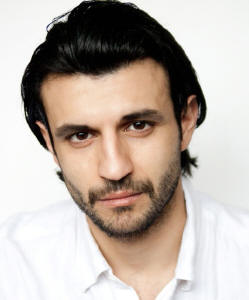 Ealing lad Sam Vincenti who plays "Akbar".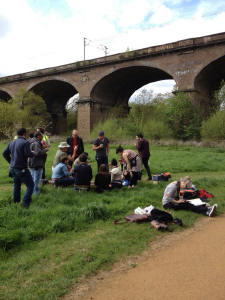 The glamour of showbiz? The cast and crew have their lunch picnic-style by the viaduct
Participate
Comment on this story on the forum
A new movie's being shot over the next month – entirely in West London. Low on budget but big on passion – "Amar Akbar & Tony" is a film about the lives three young men who grow up together and their bond of friendship. It also celebrates multi-culturalism in the UK and especially in this vibrant part of the capital – hence all the locations are Ealing and the surrounding area.
It's been written and directed by Atul Malhotra – from Harrow - and he was determined to be loyal to this, his part of London. "I was offered some places in East London to film some of the scenes," he told me "but I wanted to 'keep it real' and use places that I know and love."
The lead actors in "Amar Akbar & Tony" are Martin Delaney whose previous movies include 'The Little Riders' and 'Beowulf and Grendel', Rez Kampton who was in 'Spooks' on TV and the Merchant Ivory movie "Mystic Masseur" and Ealing's very own Sam Vincenti who's done lots of TV including 'Casualty', 'Holby City' 'Waking the Dead' and who is delighted to be working on home turf. "Mind you, " quipped Martin Delaney,"he might be the only truly local cast member, but that doesn't stop him being late every day!"
Sam's a local lad through and through. he went to Montpelier School in Ealing then Twyford School in Acton.
As well as familiar faces, you're bound to spot locations that you'll recognise too, in Ealing and Southall.
"Ealing Council have been great" said producer Victoria Wood, "We have to turn things around really quickly and often at such short notice, and they have been so helpful, especially pushing through with the necessary permissions, which actually make the production possible."
(Nice to know they're exploring lots of revenue streams to keep our council tax down!)
On my first day on set we were near the Bunny Park – by the Viaduct. We had been due to get together in a pub in Acton but actress Nina Wadia was poorly so that's had to be postponed for another day.
I did make some gentle enquiries to ascertain if there were any uncast parts, perhaps a glamorous, older woman – maybe with blonde hair – but was swiftly told that with names like Meera Syal, Nina Wadia and Laura Aikman they were, as they say, "fully crewed". Oh well.
However, they will be putting out requests for extras now and then – so follow them on Facebook (/amarakbarandtony) and Twitter (@amarakbarntony) to be in with a chance!
I have been invited back on set – so expect some updates.
Viv Ellis
May 7th 2013