They could have a Morrisons van named after them
Related Links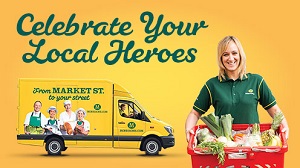 Participate
Comment on this story on the forum
Morrisons is hoping proming its online delivery service and is on the hunt for local heroes - who could get a van named after them!
The supermarket is asking Ealing residents to nominate someone who's gone above and beyond to improve lives for others in the region.
It might be a teacher who's active in the community beyond the classroom, a parent who's lead a campaign for better childcare in the area or simply someone who puts their neighbours and their surroundings ahead of themselves.
Morrisons is offering a prize for the winning local hero nominations which are being made across North London. This includes naming a local delivery van after the outstanding unsung hero. They will also be given £1,000 donation for their cause or charity of choice alongside £100 towards an online shop at Morrisons.com. Those who nominate one of the winning 'Local Heroes' will also be treated to a £100 shop at Morrisons.com.
Simon Thompson, Head of Online Food at Morrisons, comments: ''In today's busy lives it's not only grocery shopping we seem to struggle to have time for. The Local Heroes competition is just a small way of giving back to those who so generously offer their time to our local community.''
For further information and to determine whether your home is located within the serviced area, visit www.morrisons.com/NameAVan.
Note, all entries must be received by 30th July 2014. Terms & Conditions apply.
9th July 2014