Meena Toor enjoys the Vaisakhi Mela
Last Sunday, the Vaisakhi Mela took over Lampton Park, Hounslow, hosting traditional Indian dances, music and comedy acts. While religious processions - Nagar Kirtans - were organised up and down the country in prior weeks, this event marked social celebrations for Ealing and Hounslow.
Performers included a trio of Punjabi dance acts: The Vasda Punjab Bhangra, Rani Jago giddha, and Baharan Punjab Diyan, which all entertained onlookers with tradition folk dances of rural life.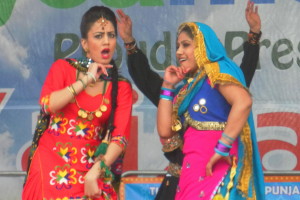 Humorous retellings of village love triangles, and misbehaving children, were delivered by Asli Baharn Punjab Diyan. The event's two headline acts – Comedian Bhagwant Mann and performer Sarbjit Cheema – were greeted with loud rounds of applause.
Among the jovial atmosphere, a strong sense of civic and community duty was a reoccurring theme.
Gatka students from Baba Fateh Singh Gatka Akhara, Hounslow, staged sword and shield fights to showcase their skills. Student Kulvinder Singh, explains that this martial art is part of "our identity, part of being a Sikh. I could do karate if I wanted but Gatka is in my blood. Guru Ji has given that to us."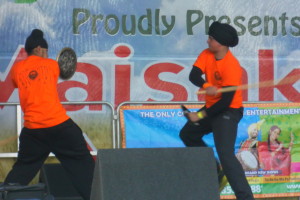 The Mayor of Hounslow, Pritam Grewal, attended the event and gave a special address. Previously, the mela was housed in Southall Park, and the Mayor was happy to be included in the festivities: "I'm grateful that Akash radio and [the organiser] Sukwinder, have decided to do the Mela in Hounslow's borough. We said you are most welcome here – 140 languages we speak in Hounslow We live together with no problems. We respect each other's culture and celebrate them."
Meena Toor
twitter @journomeena
April 26th 2013