Shops in Ealing Broadway Centre were forced to close earlier than normal yesterday (23/05) after a power cut hit the area at peak time.
Around 400 homes and businesses were affected at around 5pm - the problem was thought to be caused by underground cabling.
Samantha Stotland (@moviemoll) on the social network site, twitter, said that traffic lights had gone out in the area too:
''Driving home I realised that every single traffic light in Ealing is not working. We all seemed to be being quite courteous to each other, but I can only imagine that chaos is likely to ensue and, probably, an accident.''
Scottish and Southern Electric say they were notified of the power cut at 5pm and say they had it sorted by 6.12pm.
They have apologised for any inconvenience caused.

Rush-hour yesterday also brought a host of other problems, including a 'blast' at an electrical utilities manhole on the corner of Edgware Road and Harrowby Street. Three people were injured.
There was a signal failure at Ealing Common (and other parts of the network) and a broken down train on the Jubilee line.
This picture of passengers evacuated from the Jubilee line train was posted on twitter from @jeniyesterday :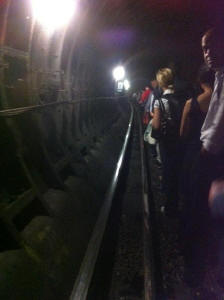 To add to the catalogue of problems Virgin Media had an outage in the Ealing area last night which affected the television until 8pm.
Were you affected by any of the incidents?
May 24th 2012