Last few days of campaigning for Mayoral elections
Related Links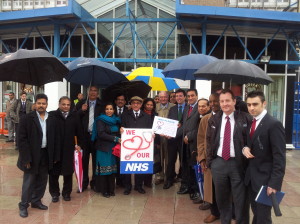 Participate
Comment on this story on the forum
Labour's Mayoral candidate, Ken Livingstone, has been in a very wet Ealing today to highlight the plight of the hospital alongside the Shadow Secretary of State for Health, Andy Burnham.

He was joined by Virendra Sharma MP and London Assembly candidate for Ealing & Hillingdon, local GP Onkar Sahota who have been leading a campaign to fight cuts.
Four out of nine accident and emergency wards in north-west London will close under NHS reorganisation plans.
Under current proposals - which are still being finalised - either Ealing or West Middlesex or will lose its accident and emergency ward.
Labour say the Conservative Mayor, Boris Johnson, has failed to keep his promise (pdf pg 17) to stand up for the NHS.
Mr Livingstone said: " I will use the powers of the Mayor's office to do all that I can to prevent the Tory onslaught on living standards and public services. Be it defending the NHS, reinstating EMA for London or fighting the granny tax, I will ensure that Londoners are better off with Labour."


Andy Burnham said:"Londoners deserve a mayor who will promote Labour values to protect the NHS and defend ordinary Londoners from the damage the Tories are doing. Boris Johnson has broken his pledge to fight NHS closures and has let Londoners down."
Candidates for London Mayoral Election May 3rd
Siobhan Benita, Independent
Carlos Cortiglia British National Party
Boris Johnson Conservative
Jenny Jones, Green
Ken Livingstone, Labour
Brian Paddick, Liberal Democrat
Lawrence Webb, Fresh Choice for London (UKIP)
25th April 2012