Ealing author investigates inhabitants of his family home
Related Links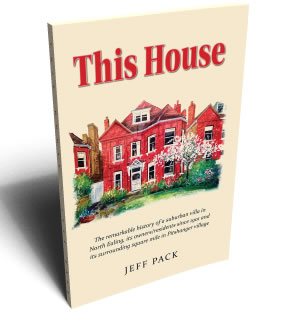 Participate
Comment on this story on the forum
An author from Pitshanger, who's been delving into the 100 year history of his family home, urges others to look into the fascinating background of their own houses.
Writer, Jeff Pack, has recently published 'This House' which has been flying off the shelves of the local Pitshanger bookshop.
The illustrated book looks at the variety of occupants at Queens Gardens, W5, over the last century.
The six bedroom house was built in 1901 and Mr Pack has been living there since 1981.
He's been delighted with the response to the book and believes there is much to gain by looking into other houses.
He says: '' Not all houses have the history of Hampton Court but all houses do have history. Why not investigate your own?''
This House - Book synopsis
A former Prince of Wales; Queen Victoria's father; Sir Frederick Weatherall, and many other notable worthies; Benedictine monks; a Socialist housing cooperative that backfired but left many beautiful houses, one occupied by Fred Perry; the Rector whose parish only had 34 inhabitants but who was disgraced for selling grave plots for his own benefit; Charles Jones, Ealing borough surveyor 1863-1913, poacher in the land wars all over Ealing turned Council gamekeeper (and just occasional poacher?); Henry de Bruno Austin, full time poacher who went spectacularly bankrupt; all of these people played a part, big or small, in the history of the house, and that is without the occupants and owners.
A history of a house in Pitshanger village, north Ealing, its inhabitants and or owners over it's 102 year history, the square mile around it and it's unusual royal, religious and republican connections, and the fascinating history of the developer who lost a fortune in property development but still died a very rich man thanks to his wife who pushed him on.
The occupants, whose stories are told as much as possible, have included a Polish refugee orphan and his family, a carpenter, a colonial merchant in the Burma rice trade, a Swiss-descended trader in condensed milk and starch, an Irish family who got very seriously into debt and were nearly killed by nearby bombs in WW2, an ex-RAF architect who was knighted and redesigned the house, a nationally famous writer on social and political issues and, finally, us.
The house's history mirrors the history of the times both in the expansion of north Ealing and nationally.
Not all houses have the history of Hampton Court but all houses do have history. Why not investigate your own?
9 Jan 2014