After violence which resulted in serious injuries
Related Links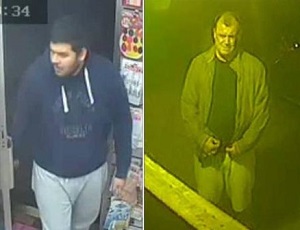 Police want to question Daniel Hingerton and another man
Participate
Comment on this story on the forum
Detectives investigating three linked violent incidents which occurred within six days, are releasing two images of people they are keen to speak to.
The events occurred in August and resulted in three people receiving injuries ranging from a serious eye injury to multiple injuries and unconsciousness induced by simultaneous kicking, stamping and beating to the head and body.
Officers are keen to trace and speak to Daniel Hingerton, 25, who is known to have links to Hillingdon, Perivale and Northolt.
A second man, who is yet to be identified by police, is described as a white man, aged between his early 40s to 50s and of medium build with a distinctive receding hair line at the sides.
Detective Inspector Andrew Smith of Hillingdon CID said, "We are asking the public to look closely at the images and help us to identify the whereabouts of these two men. Our appeals are an extension of a large scale investigation which has already resulted in the arrest of a number of individuals along with one charge. This fast moving enquiry continues to gather momentum and forms part of our long term commitment to bringing violent offenders to justice."
On Wednesday, 30 September Officers at Hillingdon CID with support from the MPS Territorial Support Group, executed six search warrants at addresses in Northolt, Uxbridge, Ealing, Chiswick, Slough and Beaconsfield. Four men aged 47, 41, 27 and 46 were arrested in connection with the investigation and currently remain in custody pending further enquiries.
A quantity of class A drugs and a stun gun were recovered at the addresses along with a quantity of cash which was seized under the Police and Criminal Evidence Act.
The first violent incident occurred at approximately 2:10am on Saturday, 22 August, when a number of men were involved in an altercation at a house party on Hindhead Road, Uxbridge. One man was injured and received a bite wound to lip and had teeth knocked out from the force of a punch.
The second incident occurred at approximately 1pm on Friday, 28 August, at the Ivy Leaf Club on Wellington Road, Uxbridge. An altercation took place between a number of men resulting in one sustaining a fractured eye socket and another man receiving minor injuries.
The final incident occurred 15 minutes later at the Grand Union on High Street, Cowley. A man was beaten, kicked and stamped on to the point of unconsciousness by a number of men.
Police were called to all incidents and attended with the London Ambulance Service. A number of individuals fled upon police arrival.
All of the individuals are known to each other.
On 1 September a 27-year-old man handed himself into police in connection with the investigation and was subsequently charged with GBH.
1 October 2015