Youngsters in Ealing benefit from early cycle training
Related Links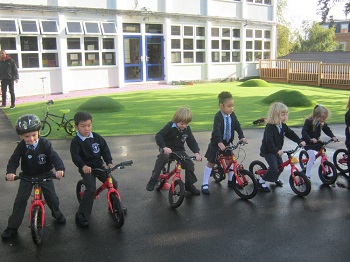 Children at St Vincents in Acton
Participate
Comment on this story on the forum
Ealing Council has teamed up with a company selling lightweight childrens bikes to encourage more children to take up cycling and ride their bikes to school.
Spread across 40 schools in West London, the partnership aims to promote active and sustainable travel in schools across the borough, creating fun for the children along the way.
Frog Bikes, has supplied the brightly-coloured 'pool bikes', and Ealing's schools have been taking up a range of schemes to get the children saddled up on their brand new Frogs.
These range from after-school bike clubs to official programmes such as Cycle Training UK's Bikeability course, and Sustrans' Bike It scheme, where an embedded officer works closely with the school to promote a cycling culture through themed assemblies, club activities and 'bling your bike' competitions.
Kieran Flynn, School Travel Adviser at Ealing Council said: ''Since Frog Bikes came on board our school cycling initiatives have really taken off. The children love how the bikes look, and their lightweight design makes them easy to ride – especially for the children who are learning to cycle for the first time. It's great to see so many children
taking up the sport and cycling to school, and with the learning and support we're providing to teach children to keep safe on the roads, we envisage the partnership having lasting, positive effects for the children's active lifestyles, for Ealing's transport, and for the community in general.'

Shelley Lawson, who co-founded Frog Bikes just over a year ago with her husband Jerry, commented: ''We are delighted to be working with Ealing Council on this project. We set up Frog Bikes with the aim of designing bikes to make cycling easier and more enjoyable for kids, and Ealing council share exactly the same vision, so the partnership is a very natural fit, and we've been thrilled to see the benefits this is having for schools in Ealing.'
7th April 2014