Maria and Joel Evangelista awarded for their dedication
Related Links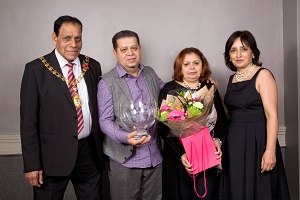 Joel and Maria Evangelista (centre) with Mayor of Ealing, Councillor Tej Ram Bagha (left) and cabinet member for children and young people, Councillor Binda Rai.
Participate
Comment on this story on the forum
A couple, who helped save the life of a baby in their care, have been named Ealing Council's Foster Carers of the Year.
Maria and Joel Evangelista were foster carers to a girl from birth who needed round the clock monitoring by the couple in case she stopped breathing and faced countless hospital admissions. On one day Maria and Joel had to take her to three different hospitals.
Throughout this time they maintained a constant vigil and battled to get a second medical opinion because they believed she had not been correctly diagnosed.
The infant's social worker said she believes that the child is alive, because of the quality of care given by Maria and Joel and their insistance that doctors look again at the girl's condition. Although exhausted and in need of a rest, they cancelled a planned holiday to stay with the little girl who is now well enough to go on a break with them in the New Year.
Maria, who has been an Ealing foster carer with Joel for six years, looking after ten babies and young children over that time, said: "We were very surprised to receive this award and are very happy to have been given it. We really enjoy being foster carers and while at times it can be very hard, the rewards are far greater and we wouldn't want to do anything else right now.
"There are so many children and young people that need help in the local community and to be able to make a difference to children's lives is an amazing thing."
The annual awards ceremony is held by the council to recognise and reward its foster carers for their hard work and commitment. This year's event was held the Double Tree Hilton Hotel in Ealing and was opened by the Mayor of Ealing, Councillor Tej Ram Bagha and hosted by cabinet member for children and young people, Councillor Binda Rai.
Councillor Rai said: "Foster carers do an amazing and vital job and it was both heart-warming and inspirational to hear stories of people like Maria and Joel. Our wonderful foster carers really deserve recognition for the positive impact they have on children's lives.
"We do however, have 370 children in Ealing's care and urgently need more people like them to help our most vulnerable children. Fostering can offer many rewards as well as challenges, which is why we give full support and training. I would urge anyone thinking about becoming a foster carer to come along to our next fostering information session at the town hall."
The next sessions will be held on Monday, 1 December 2014, 7.30pm- 9.30pm and Monday, 5 January 2015, 11am-1pm both at Ealing Town Hall, New Broadway, Uxbridge Road, London, W5 2BY.
For further information contact Ealing Fostering and Adoption Connections on Freephone 0800 731 6550, email fosteradopt@ealing.gov.uk or visit www.ealing.gov.uk and search for fostering.
11th November 2014