Youth team win London fencing title
Related Links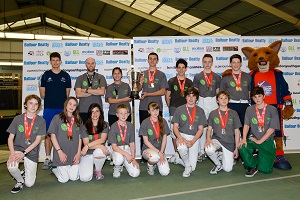 Ealing Fencing team with Richard Kruse
Participate
Comment on this story on the forum
Ealing has won the Balfour Beatty London Youth Games fencing title for the first time in over a quarter of a century.
The borough last won the trophy in 1988, but they were the sharpest team on show in Sunday's finals ending silver medallists Newham's seven year grip on the title, with Hillingdon settling for bronze.
It crowned a successful weekend for Ealing at Redbridge Leisure Centre as the tennis team and female hockey teams have a medal chance by qualifying for next month's finals.
The finals will take place at the National Sports Centre, Crystal Palace on 5-6 July, where Europe's largest annual youth sports event will conclude for 2014.
But for the fencing team, the celebrations can begin after a fine team performance. Coach Dennis Cranwell is formerly a member of Newham's coaching team, but is now hoping to build a new dynasty.
He said: "It feels weird getting the overall because I was affiliated with Newham Swords for a long time. It's nice to go elsewhere and prove we can still get the result. We've got a good group, some of the seniors are too old. But the juniors have stepped up and showed they can do it. I'm really pleased for them.
"It's nice to get one over on Newham, but it is a friendly rivalry. We have some individuals who have a lot of potential. If they stick at it, they can really go places."
They collected their title from London Youth Games Hall of Fame member and six-time European Fencing Championships medallist Richard Kruse.
He said: "It brings back memories coming back here. I took part in about six or seven London Youth Games back in the 90s. It's nice to give something back. I have seen some talent here, I know a lot of them anyway from the fencing community. But it's nice to see them fence.
"It's good to be part of a multi-sport event. You don't have them many chances in fencing. You have the London Youth Games, the Olympic Games, the World Student Games and that's it. I think it was at the London Youth Games where I won my first medal."
The London Youth Games is Europe's largest annual youth sports event and is driving the legacy for increased participation in competitive sport for young Londoners. A record 114,295 young Londoners took part in the record-breaking 2013 London Youth Games. The event, which first took place in 1977 at Crystal Palace, is on track for its millionth athlete in 2014.
To find out more about the competing or volunteering at London Youth Games, visit www.londonyouthgames.org or follow @ldnyouthgames on Twitter
18th June 2014