Funding available for local cycling schemes
Related Links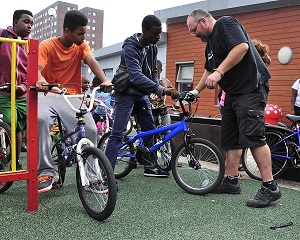 Participate
Comment on this story on the forum
Community groups in Ealing are being urged to apply for grants of £5,000 and £3,000 to help promote and encourage cycling.
The Community Cycling Fund for London (CCFL) wants toto help projects which make riding a bike an activity open to all Londoners.
CCFL particularly supports community projects that build the confidence of infrequent or new cyclists – especially those traditionally under-represented in cycling such as women, children and young people, disabled people and other to hard to reach groups where cycling is limited by income, equipment, health, ability, skills or information.
Applications will start on Monday 22nd September and close 2 weeks later on Monday 6th October 2014 and are open to a broad range of organisations including residents' associations, charities, community groups and youth organisations. The awarded money could be used to run local rides, provide cycle training, hold bike events, bike maintenance or other small scale projects that encourage cycling.
Ben Plowden, Director of Surface Strategy and Planning, said:
"This has been a fantastic year for cycling in the capital. The Tour de France, Prudential RideLondon and the Friends Life Tour of Britain have inspired even more Londoners to take to their pedals for commuting and pleasure. The community cycling fund is a great way we can help thousands more potential cyclists, who may have been inspired to ride but face certain barriers to overcome them, to get on their bike and build a legacy out of this summer of cycling."
London Cycling Campaign Grants officer, Aurora Trujillo, said:
"Last year the fund enabled 26 community cycling projects to get off the ground and deliver a variety of cycling activities, encouraging thousands of Londoners from all backgrounds to take-up cycling or ride more often. The fund supported a wide range of organisations, from the Hackney Volunteer Police Cadets and Tower Hamlets BMX that motivated young people to develop a real passion for cycling, to the Empowering Deaf Society which worked to provide cycle training and other cycle activities that were fully accessible to deaf people. Working with groups that face specific barriers to cycling is key to making it an activity that is accessible to all Londoners"
For more details on the CCFL and for application forms and eligibility criteria, visit www.lcc.org.uk/community
23rd September 2014