Protesters are supported by local MP at demonstration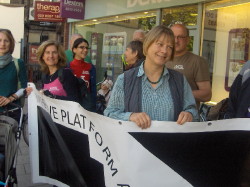 Ealing Central and Acton MP Angie Bray
The Ealing Cycling Campaign held a demonstration outside Ealing Broadway Station to raise awareness of the lack of platform access for a range of local people.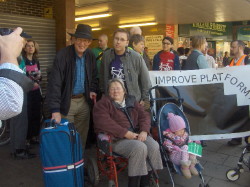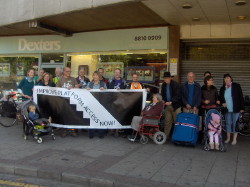 The protest highlighted how the station has become a no-go area for many groups who find stairs difficult to negotiate, including parents with children in buggies, people with disabilities, cyclists with bikes and passengers with heavy luggage.
Ealing Cycling Campaign's David Eales and Lib Dem Councillor Gary Malcolm
Protestors want the station operators to install either a temporary lift ahead of the Crossrail improvements or install a permanent lift that can be incorporated into the final station redesign.
Angie Bray, Member of Parliament for Ealing Central & Acton, who has been calling for improvements to station for many years, says:
"I have been a long time supporter of the Ealing Cycling Campaign's work in promoting cycling and also pushing for better facilities.
''They are key members of my local transport group which is working with key transport stakeholders and the council to get improvements at Ealing Broadway station, which are still woefully lacking.
''I applaud them for their commitment to making life better for local people."
September 21st 2010