On the anniversary of last year's riots - Ealing remembers
Related Links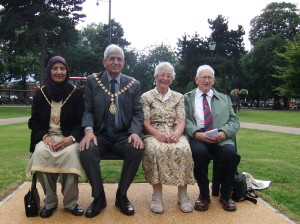 Ealing Mayoress Majeeda Aslam,Mayor Councillor Mohammad Aslam with Richard mannington Bowes' sister Anne and brother-in-law Michael Wilderspin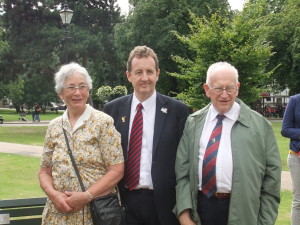 Anne and Michael Wilderspin with Council Leader Julian Bell
Participate
Comment on this story on the forum
At a quiet but poignant ceremony on Haven Green this afternoon (7/8/12) a lasting memorial to the pensioner who died trying to extinguish a fire during last summer's riots was unveiled.
Sixty-eight year-old Richard Mannington Bowes lived in a flat bordering onto the green where there is now a bench overlooking the trees and flowerbeds that he loved so much.
It may have been a quiet ceremony but it was well attended. Ealing Council leader, Julian Bell, Mayor, Councillor Mohammad Aslam and Mayoress Majeeda Aslam, Ealing's Police Chief, Commander Andy Rowell, representatives from the council and traders joined the guests of honour; Richard's sister and brother-in-law Anne and Michael Wilderspin.
Councillor Bell said :'' I saw some of the ferocity that night and he had the courage to be there and stand up to those bent on stealing and destruction.''
The plaque on the simple green bench reads:
'An innocent man trying to do the decent and honest thing.'
His sister, Anne Wilderspin, thanked Ealing Council for the memorial which, she said, "helps soothe our enduring sadness".
The quietly spoken pensioner, a devout Christian, added: "We hope some progress has been made to deal with the causes underlining the dissatisfaction of many young people growing up on housing estates with little to look forward to in their futures."
Viv Ellis
7th August 2012