New planning laws could make it harder for them to open
Related Links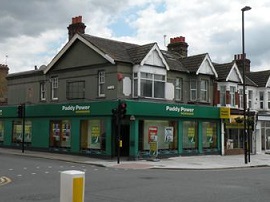 Participate
Comment on this story on the forum
An Ealing Councillor's claiming victory after the government's agreed to make it harder for betting shops to open on the high street.
Local authorities will have new powers to crackdown on the likes of Ladbrokes, William Hill and others opening more branches.
Betting companies will have to make a planning application which local councils will be able to refuse if they are worried about the numbers of shops in the area. Previously they didn't need planning permission.
The Local Government Association (LGA) was one of a number of agencies that had called for new laws to prevent bookmakers being "clustered" in town centres.
Ealing Common Lib Dem councillor, Jon Ball, who is also candidate for Ealing Central and Acton parliamentary seat, proposed a motion at his party's conference in September, which, he says, has now borne fruit.
Cllr Ball said:"I saw this loophole in action when Ladbrokes opened a betting shop in the former Sitar Restaurant in South Ealing Road - a short distance away from the existing Corals and Paddy Power betting shops.
''No planning permission was required as a restaurant was considered a more intensive use than the financial services class in which betting shops were included. Residents are concerned about the effects that a cluster of betting shops can have on our high streets and local shopping parades and I am delighted that the coalition government has acted to make the bookmakers seek permission and to give councils powers to refuse them where there are grounds to do so."
Liberal Democrat Communities Minister Stephen Williams said "Across the country many people are concerned about the explosion in the number of betting shops in some high streets. The Coalition Government is determined to build a stronger economy and a fairer society with healthy and diverse high streets that aren't dominated by betting shops, this is why we are now giving councils tough new powers to prevent the proliferation of betting shops in their area."
The Association of British Bookmakers said there had been "no proliferation" in the overall number of bookmakers in recent years and said bookmakers "add to the vitality and vibrancy of the High Street" and drive footfall to other businesses.

30th April 2014