The second in a series of articles looking at Ealing's local high schools
Related Links
St. Benedict's Sixth Form Open Evening Thusday 29th September
Programme starts at 6.30pm. To book email enquiries@stbenedicts.org.uk or telephone 020 8862 2254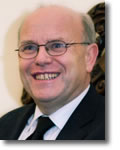 Headteacher Christopher Cleugh says his school 'aspires to excellence'
Exam Results
2011

A'Level:
A*-B = 69.9%
A*-E = 100%
GCSE:
A*-A = 55.9%,
A**-C = 97.3%.
2010
A-Level
A*-B – 70.3%
A*-E – 100%
GCSE
A*-A – 49.1%
A*-C – 93.1%
Exam Results 2009
A-Level
A-B – 73.5%
A-E – 99.7%
GCSE
A*-A – 46.9%
A*-C – 92.4%
Participate
Comment on this story on the forum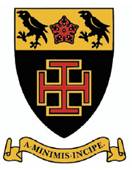 St Benedict's School
Type of School – Independent Catholic
Age Range – 11 to 19 years (Senior School)
Number of pupils – 773
St Benedict's was founded in 1902 as Ealing Priory School and the school's motto, a minimis incipe ('from smallest beginnings'), was certainly apt: at that time there were only three pupils!
The school was exclusively a boys' school in the beginning, but started allowing girls into the sixth form in the 1970s and has been fully co-educational since 2008.
Mr Christopher Cleugh has been headmaster since 2002 and is a member of the Headmasters' and Headmistresses' Conference which represents close to two hundred and fifty leading independent schools in the United Kingdom and Ireland.
He has overseen several significant changes at St Benedict's including the 'Cloister Project,' a major architectural restructuring completed in 2008, which has allowed the school to evolve as a centre of learning whilst retaining its rich heritage.
1) What are the school's goals for this year? Are there any reasons why this is a particularly significant year for St Benedict's?

The goals this year are the same as they are every year. To do the best we can for every individual student and through this see the school achieve overall. An education at St Benedict's is about teaching a way of living and because of this every year is significant. We have high hopes for this year academically but also in extracurricular activities; our students are rounded, active young people.
2) Where would you like to see the school in five years time?

I hope St Benedict's will be continuing to offer high class Catholic education for those from all backgrounds and faiths. The aim is to make this the leading independent Catholic co-educational school in the South East and I believe we are well on the way to achieving that goal if we have not already.
3) How much of a role does St Benedict's have in the local community?
Our pupils get involved in a number of worthy causes. Many students work in a local soup kitchen with the homeless and some volunteer at Ealing Mencap. On Saturday mornings St Benedict's becomes a Polish school with local Poles bringing their children to learn the culture and language of their county; several pupils of ours are Polish and they often join in as well.
4) How does the school measure success?
Most importantly it is about young people fulfilling their dreams. Ninety percent of our pupils go on to university but we want students to take more than academic success from an education here. Luckily scholarly practices fit in side by side with a broader learning which equips pupils for life as a whole. My philosophy is that if you want a job done then you should give it to a busy person; the dynamism we expect from our students is a reflection of that.
5) If you could sum up St Benedict's in three words, what would they be?
Aspires to excellence
28th September 2011