Council awarded more money to deal with rogue landlords
Related Links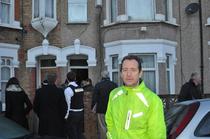 Participate
Comment on this story on the forum
Ealing's been given the largest amount of government funding - in London- to help tackle the beds in sheds problem.
An announcement last Thursday (28 March) confirmed that Ealing will receive £270,919 - Hillingdon gets £183,141
Newham £227,572 and Redbridge £108,368.
Officers have already inspected more than 3,000 homes and issued 224 planning warnings, 84 contravention notices and 31 Housing Act notices. The council has also told four landlords to demolish their illegal buildings – if they do not do it within a year, the council has the power to do it itself.
The council will use this money alongside £250,000 it has already set aside to fund a dedicated team that works exclusively on dealing with illegal outhouses and unlicensed houses of multiple occupancy (HMOs) in the borough.
The team was set up just over a year ago to respond to all complaints made to the council about outhouses as well as carrying out visits to homes across the borough to determine if they have an illegal outhouse. The team also works with partner organisations including the police and UK Border Agency to carry out raids twice a month on properties where it suspects there are illegally occupied 'bed in sheds' or HMOs.
Council leader Julian Bell said: "In the past 18-months I have accompanied several government ministers on raids in Southall where we saw people living in squalid, cramped conditions. I have used each of these visits as an opportunity to ask for more money and greater powers to deal with this issue.
"I am pleased that our outhouse team, which is now being mirrored by other London boroughs, will be fully funded for a further year. My fear is that the dire shortage of private sector housing, high rents and changes to benefits is likely to create a 'perfect storm' where more and more people will be pushed into unsuitable housing at the mercy of unscrupulous landlords".
The council is urging anyone who is concerned about an outbuilding to contact its enforcement team at outhouses@ealing.gov.uk or call 020 8825 8786. Details will be kept completely confidential.
3rd April 2013