Yes To Fairer Votes Campaign Open Meeting this Thursday
Related Links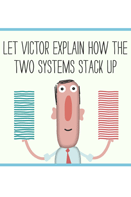 Participate
Comment on this story on the forum
The Yes to Fairer Votes Campaign is holding an open public meeting at Ealing Town Hall this Thursday, 14th April. The event will begin at 8:00PM and finish at around 9:30PM.

There will be three speakers who are: Tom Brake (Lib Dem MP for Carshalton), Stephen Pound (Labour MP for Ealing North) and Jenny Jones (Green Party Mayoral candidate). The event is being chaired by Adrian Cave OBE.
With just three weeks to go until the May 5th referendum on the Alternative Vote, this is an opportunity for local people to listen to the speakers, discuss the issues surrounding the referendum and ask any questions they might have.
Ealing Central and Acton MP Angie Bray has voiced her opposition to the Alternative Vote, saying on her website that 'it all sounds very democratic until the details are considered: the actual effect is to elect the candidate least disliked by most people, rather than the candidate most liked by the biggest number of people." The No2AV campaign is backed by the Prime Minister David Cameron and celebrities such as Esther Rantzen


12th April 2011