Hanwell Clock becomes focal point for community grief
Brightly coloured flowers and yellow ribbons cover the area around the Hanwell clocktower as the community pay their respect and offer tributes to Alice Gross.
Local people have been involved from the outset of the teenager's disappearance - unifying via social media putting up missing posters and ribbons.
When news came through that the teenager's body had been found Alice's family asked for the posters to be taken down but were initially happy for the ribbons to stay - The Gross family now ask the many ribbons throughout borough and beyond be taken down.
They acknowledged local grief and the requests for a central point in Hanwell for people to attend and the clocktower was chosen, now covered in bouquets, toys, candles and cards.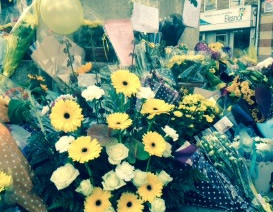 Many are from strangers, but some displays are from friends reminiscing about the good times they had spent with Alice.

Police officers have been standing by helping people and are frequently straightening out the growing number of flowers, as adults, teenagers and children lined up.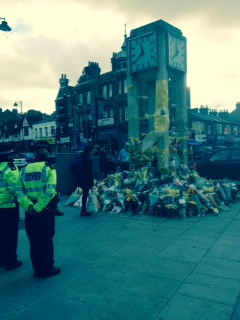 Many visitors have come from further afield to witness the beautiful display and spend a moment in quiet reflection for Alice and her family.
Pio Cardoza posted photos on twitter and wrrote ''A moving tribute to Alice Gross, the 14 year old who went missing on 28th August in Hanwell and whose body was tragically recovered from the River Brent over 5 weeks later. R.I.P.''
Churches, mosques and synagogues have held prayers and Ealing's local ward forum meetings have been holding a minute's silence beforehand as everyone shows #ourcommunitycares.
Books of condolence have been placed in Ealing Town Hall and another in Hanwell Library where people can also pay their respects.
3rd October 2014