Volunteers honoured by Mayor
Related Links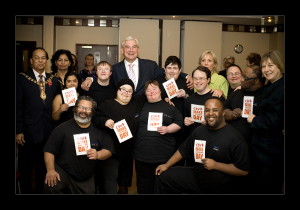 Impact Theatre Company with Mayor and Mayoress of Ealing (left), Cllr Richard Barnes (middle) and Angie Bray MP (right). Courtesy SPT Photography
Participate
Comment on this story on the forum
More than 100 volunteers – from a teenager to an octogenarian – were honoured for their selfless dedication to the local community at a Volunteer Awards Ceremony held on Friday 29 October at the Ramada Jarvis Hotel in Ealing Common.
The Mayor of Ealing Councillor Rajinder Mann presented Certificates of Exceptional Achievement at the ceremony, which marked CSV Make A Difference Day.
Councillor Richard Barnes, Deputy Mayor of Ealing and London Assembly Member for Ealing and Hillingdon, and Angie Bray MP, were among the special guests who joined in the celebrations.
Among the award winners were
• Surrinder Sangha and Tracey Sumner who were described as 'quite exceptional volunteers' by their supervisor Sushma Patel. Both joined the Equinox Volunteer Empowerment Scheme, supporting adults to overcome addictions. Surrinder and Tracey are currently studying for an NVQ Level 2 in Health and Social care so that they can follow a career helping others to overcome substance misuse problems.

• Harry Grist was nominated by Nozer Fanibanda for five years of voluntary service as a civilian instructor at 342 (Ealing and Brentford) Squadron Air Training Corps. Nozer said: 'Harry has given up an inordinate amount of personal time to help the development of the cadets aged 13 to 18. The cadets have learned about rocket science and put that knowledge into practice by building a rocket, which has been entered into a national schools' competition. The rocket has exact parameters it must achieve in flight and the team that has the rocket that comes closest to those parameters is the winner. Harry is well-liked by his peers and the cadets, and running the Squadron would be much harder without his hard work and dedication.'

• Lesley Alticosalian was honoured for more than 10 years of voluntary service at Meadow House Hospice. Her supervisor Helen Cox said: 'Lesley comes to the Day Hospice twice a week and offers manicures for the patients. During this quite one-to-one activity she chats and offers a listening ear. Her calm efficient presence is always valued. Meadow House is blessed with a fantastic team of volunteers, each one offering their own particular skill and personality.'
Awards were also presented to outstanding volunteer supervisors who had been nominated by their own volunteers. Ian Breen was named Volunteer Supervisor of the Year. Ian supports homeless people at Acton Homeless Concern, which is a haven for homeless people, who can get a hot meal, clean clothing, a haircut or simply relax in a comfy lounge watching TV at the Centre. Volunteers Ludwika Koczan and Donald Burling, who nominated Ian, described him as highly motivated and committed to the work of helping people in need, 'an extremely good manager – always approachable and ready to help, a good listener and widely respected by the other volunteers'.
A high point of the morning was a deeply moving performance by members of the Impact Theatre Company. The performers, all adults with learning disabilities, used Makaton Sign Language for their dance called 'Proud', which reflected the feeling of pride shared by everyone present at the ceremony.
Lizzie Saunders, Manager of Ealing Volunteer Centre, said: 'Today we have recognised the enormous difference that volunteers make to the local community. By giving time freely to help others the volunteers here today have helped others and changed their own lives for the better too. There are so many ways that local residents can help out – mostly you don't need special skills or experience, just a willingness to lend a hand. At Ealing Volunteer Centre we offer free one-to-one advice sessions for Ealing residents who are thinking of volunteering and would like to find out more.'

3 November 2010