Oddfellas offer to play for you
Oddfellas is a Traditional music group called "Oddfellas", whose members all live in Ealing. There are four of in the band, playing mandolin, banjo, recorder and guitar. They would like to bring their music into the community and would like the opportunity to play in community venues such as hospitals, care home, hostels, or local festivals.
Have a listen to one of their songs, and if you know of any locations who would love to hear some live music, drop Robert Underwood a line.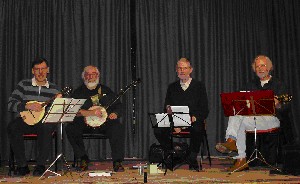 Nov 26 2005