Campaign to encourage Irish people and people of Irish descent to register
Related Links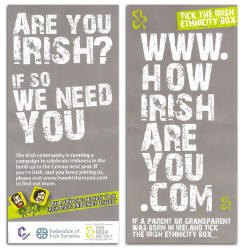 Participate
Comment on this story on the forum
As the population struggles to complete their Census forms by the deadline on 27 March, Irish groups have hit back at "persistent under-counting" of their community. Jennie McShannon of the Federation of Irish Societies said: "Ten years ago, when the last Census was taken, up to half-a-million people of Irish descent thought the Irish tick box didn't apply to them.''
She explained: "The 'ethnicity' box on the Census form attempts to make clear this is a question about Irish roots and identity – not about your passport or place of birth."
"Census statistics inform millions of decisions made by public authorities and businesses that are trying to meet demand for goods and services and distribute resources fairly. Under-representation means the needs of the weak and vulnerable members of our community get overlooked"
"Health issues specific to our community go undiagnosed and untreated. Interest in Irish culture, media and sports appears less obvious.
Being Irish, we are proud of our cultural heritage and care about the well-being of our community. Our Irishness is a part of who we are, young and old. On Census Day the word is: "Tick the Irish Box!"
The celebrity-led campaign is targeting recent migrants and those of Irish descent. Household names include Sir Terry Wogan. TV presenter Terry Christian and Big Issue founder, John Bird, football legends Niall Quinn and Mick McCarthy and top Chef Richard Corrigan. The campaign also boasts Irish business leaders and major companies like Kerrygold and Tourism Ireland.
For further information visit www.howirishareyou.org .
16 March 2011